Space business
Focusing on Financing of Space Ventures! Space Business in Japan and Abroad【Financing Mechanism and Actual Examples 2019】
Over the past few years, we have become to hear news about space venture company's financing. This time, we summarised about financing of space ventures in Japan and abroad.
For the past two years, Sorabatake had been paying attention to private-sector space business. Recently, we have become to hear news about financing of space venture companies.
In this article, we would like to focus on "financing" of space ventures.
※ The information here is of May 2019.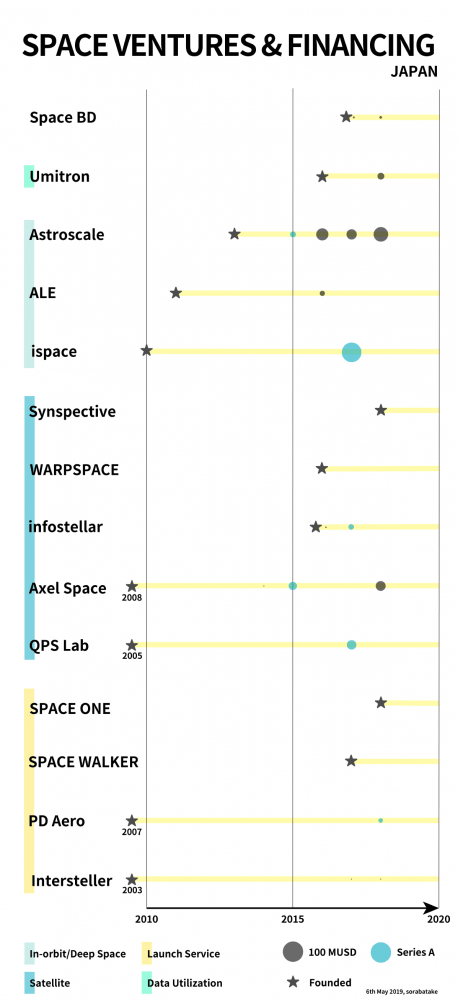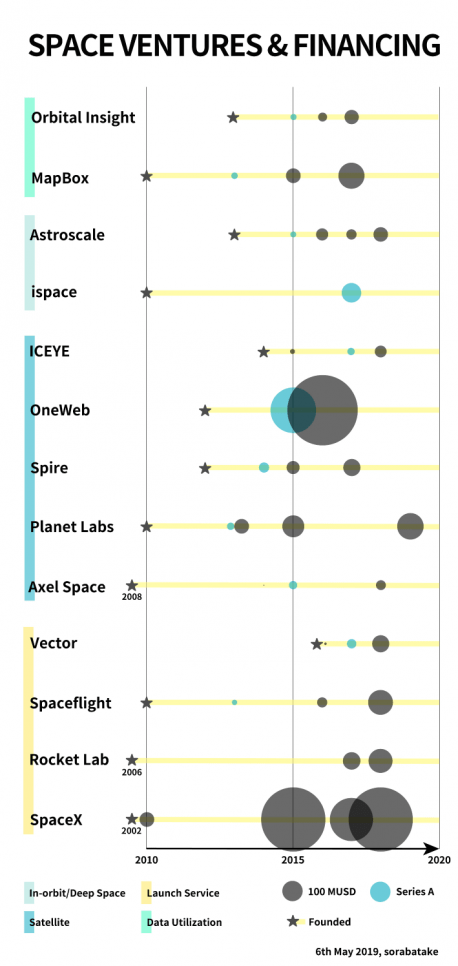 What is financing?
There may be people who are not familiar with the word "financing", so first, let's review its definition.
There are two types in raising funds; "Debt Financing" and "Equity Financing".
●Debt Financing
●Equity Financing
Debt financing is a way of raising money by "borrowing money". Common example of this is getting a loan from a bank. It comes from the word "debt" in English, and the money needs to be paid back with interest. The stock does not get transferred, so the management right does not get shifted to the creditor upon repayment.
Equity financing is a way of raising money by "exchanging with the stock or share options". The most common way is getting support from venture capitals or angel investors. There occurs no duty of repayment in this financing, however, the stock gets transferred to the investor, so the investor gains influence for decision of management. Therefore, in equity financing, it is very important for companies receiving funds to choose its investor carefully.
Most of venture companies and start-ups gather money by equity financing. Equity financing is suitable for business which is expected to explode in growth after several years' deficits. In this article, all financing we will talk about takes the way of equity finance.
Equity financing gets called in different names depending on the timing of financing. In this article, we quoted article from "Kigyo-LOG", operated by ProtoStar inc which holds its mission "bring out the possibilities of the challengers to the best".
Kigyo-LOG—Latest Market Trend of Financing Amount -2018 Version
Quoted from "Financing rounds and price/market price".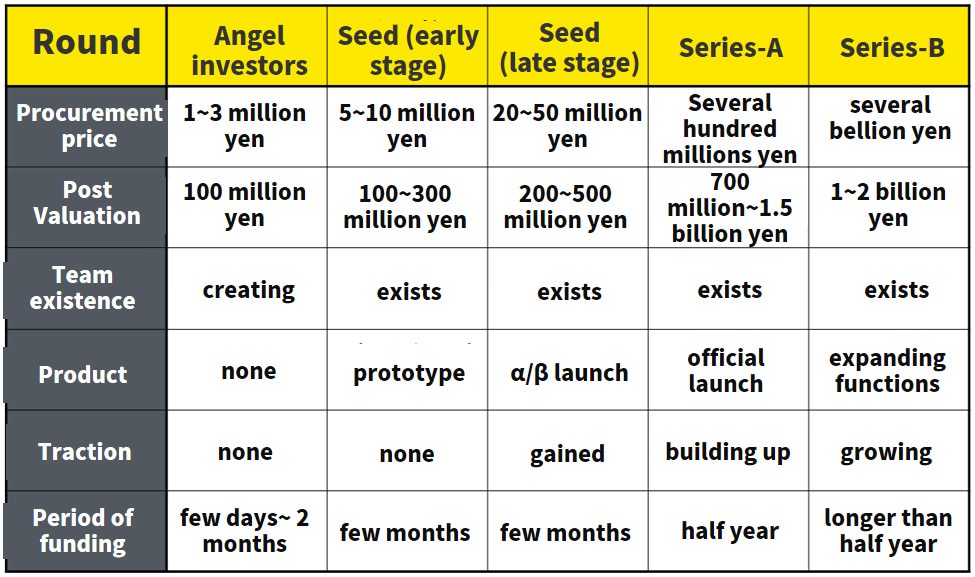 As this figure shows, round of equity financing grows like this after team creation; Seed, Series-A, Series-B, Series-C, and Series-D. Company usually starts from "Seed" and grows to the rounds "Series-A", "Series-B", and to "Series-C", and so on. In this article, we will call the state of financing using the word "round". We will also mention about "Seed Round", "Venture Round", and "Private equity fund" in addition to the rounds described above.
※Information about financing is sometimes disclosed in the non-IPO ventures. In this article, we refer to examples from formal press release, however, please note that there may be other ways of financing than what we mention here.
Financing situation of space ventures in Japan
Now, let's focus on financing of space ventures in Japan.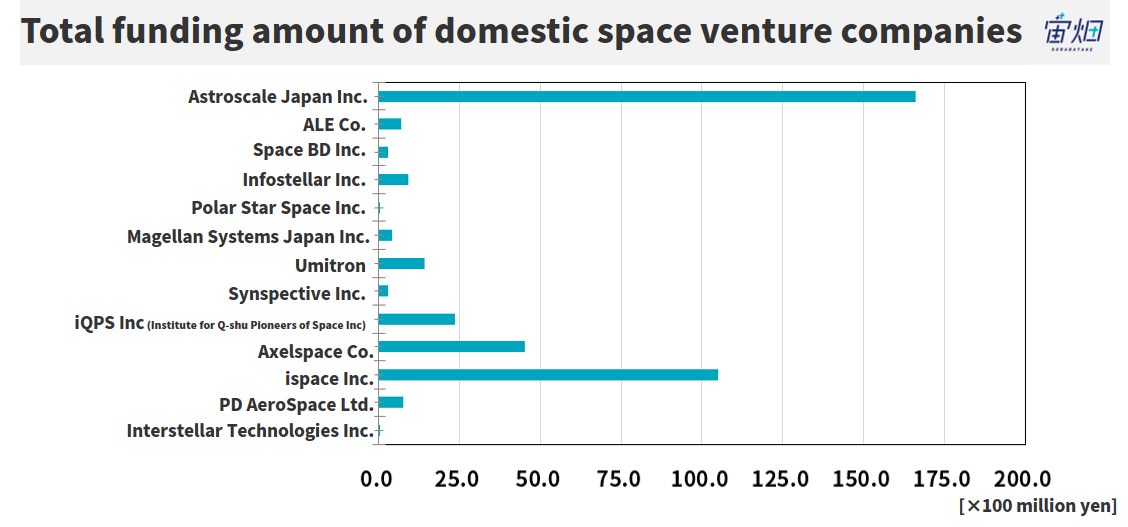 ■Amount of financing
Focusing on the amount of financing, "10.5 billion yen" in the series-A round stands out first. This was raised by ispace inc on 13 December 2017, and it is the maximum amount in series-A ventures in Japan, regardless of industries. Large amount of money is needed in commercialization of deep space exploration. It can be said that the success of the Japanese space venture to raise this amount of funds are results of expectations of the investors for space development and seriousness of ispace members. Now, let's focus on the amount "10 billion yen" in series-A.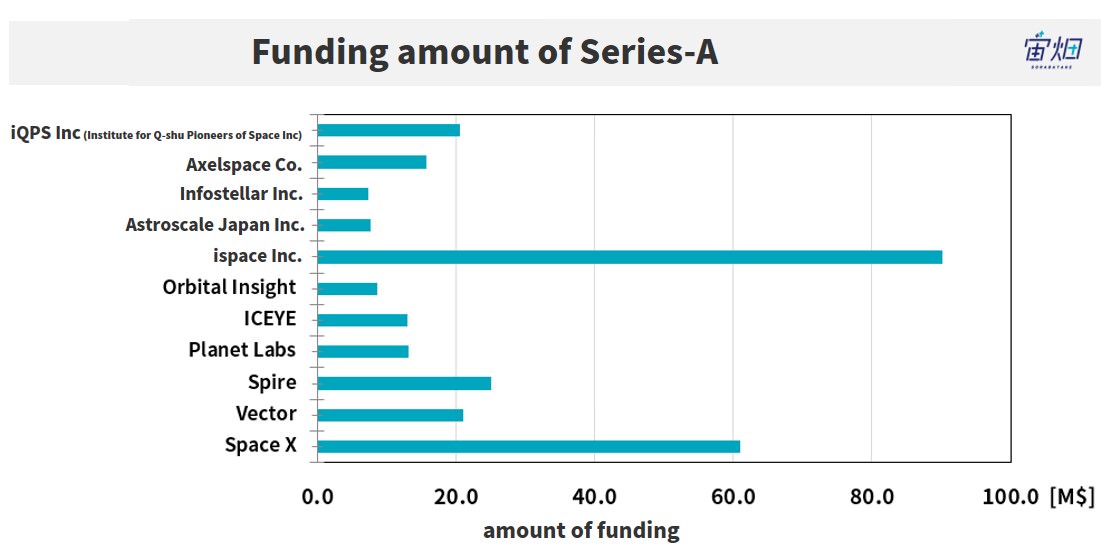 As for space ventures, financing of "10 billion yen (about 0.1 B $)" is also a large amount for overseas venture companies. According to research conducted by Mr. Sawayama from 500 Startup Japan, a representative seed VC in Japan, the median amount of procurement in each round are; 260 million yen (Series-A), 380 million yen (Series-B), 400 million yen (Series-C), and 1.35 billion yen (Series-D).
The list above may not cover all the projects, for it is a research based only on public information which can be found from the registry. However, it is still a value that is sufficiently informative as a guide. These funding figures also shows how much money is raised in the space industry.
■Financing frequency
Next, let's check the number of times financing has been implemented.
Focusing on the financing of Astroscale inc, a venture which performs a business of removing space debris, it has been successfully financing for 4 times so far.
23 February 2015: 910 million yen (Series-A)
01 March 2016: 3.9 billion yen (Series-B)
14 July 2017: 2.8 billion yen (Series-C)
31 October 2018: 5.6 billion yen (Series-D)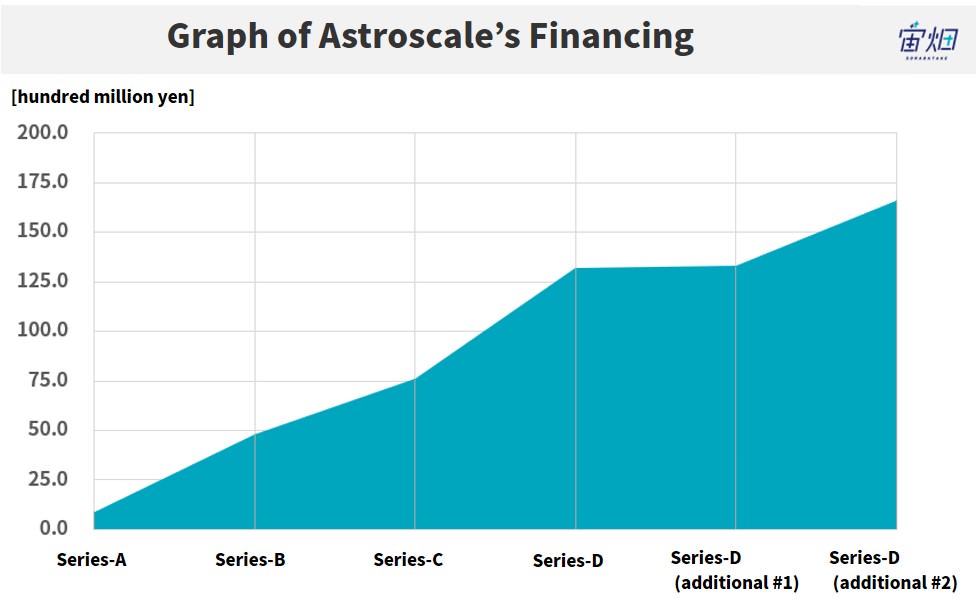 Because the company appropriately utilized the funds obtained in the previous procurement for its business and succeeded in accelerating it, investors highly evaluated the company. This led to the success in growing its finance, mentioned above. Astroscale's business is still in the pilot stage, however, it seems to be highly appreciated as a business driving force that involve domestic and foreign governments, international organizations and companies. It can be said that this success is because of the skills of Astroscale CEO Mr. Okada and other management staff.
Companies that invests in a domestic space venture
Now, changing the perspective a little, let's focus on what kind of companies domestic space ventures are getting help from.
■ "Mirai Creation Fund" invested as a social infrastructure
First, we will focus on Mirai Creation Fund which SPARX Group handles.
Mirai Creation Fund is a fund operated by the SPARX Group, and is invested by Toyota Motor Corporation and Sumitomo Mitsui Banking Corporation. The fund started its operation in November, 2015. Mirai Creation Fund invests in unlisted venture companies around the world, categorized in five fields: "Intelligent Technology", "Robotics", "Technology Contributing to the Realization of a Hydrogen Society", "Motorization", and "New Materials". The investment results of Mirai Creation Fund are as below;
20 February 2017: 400 million yen for Magellan Systems Japan Inc.
6 November 2017: 2.35 billion yen for iQPS Inc (Institute for Q-shu Pioneers of Space Inc), invested with 9 companies including Innovation Network Corporation of Japan (INCJ)
6 September 2018: 300 million yen for UMITRON
From these space venture industries that Mirai Creation Fund invested, it seems that Mirai Creation Fund positions them not as space ventures but as social infrastructure and IT industry ventures. The word "space business" may remind of rockets and spacecrafts, but the ideas of the investor may be changing little by little.
■The case local industry invests in a space venture
Interstella Technologies Inc (which we have mentioned several times on our site) has not published much investment information, but checking at the published information, some companies in Hokkaido are on the list of investors for Interstella Technologies.
31 October 2017: Hokuyo Bank and Obihiro Shinkin Bank invested a total of 19,839,000 yen.
31 December 2017: Hokkaido Bank and Shinkin Bank in Hokkaido invested a total of 9,725,000 yen.
31October 2017: Kushiro Manufacturing invested a total of 19,839,000 yen.
We assume Interstella Technologies Inc should be encouraged to receive support from financial institutions in Hokkaido like above.
■Investment as part of business
Next, let's examine the investment of companies which are partly involved in a business.
On 16 September 2015, Axel Space raised a total of 1.8 billion yen in Series-A round funding from a total of eight companies. SKY Perfect JSAT Corporation, one of the eight companies which invested money in Axel Space, is a satellite broadcaster that holds the most channels in the Asia / Oceania region. In fact, after this investment, SKY Perfect JSAT Corporation has collaborated on the AxelGlobe project with three companies, including Norway's Ksat. To be more specific, SKY Perfect JSAT announced that by using the ground stations owned by the two companies, it will provide ground station service for data transmission (transmission of commands for the satellite, reception of data captured by the satellite, etc.) between the GRUS satellite of the AxelGlobe project and the ground. In 14 July 2017, Astroscale raised a total of 2.8 billion yen in Series-C rounds from a total of six companies. One of these six companies is a cutting tool manufacturer called OSG Corporation. OSG has been a project sponsor for the launch of the Astroscale IDEA OSG 1 satellite since 2015. They also worked on the flange ring of the IDEA OSG 1 satellite. Flange ring is a part that is joined to the bottom of the satellite, and is the part that is connected to the rocket when launching. Two years later, OSG Corporation became not only the launching sponsor but a fundraising source for the Series-C round as well. Like this, investment from companies involved in the business is often seen in the financing of venture companies, not limited to the space business field.
■Investment by public-private investment fund
INCJ (Industrial Innovation Organization), a public-private investment fund representing Japan, is an active investor of space ventures.
・Invested in Astroscale three times in a row;
1 March 2016: Series-B
14 July 2017: Series-C
31 October 2018: Series-D
・ 6 November 2017: 2.35 billion yen from a total of nine companies to QPS Laboratories in Series-A round.
・13 December 2017: 10.15 billion yen from a total of eight companies to ispace in Series-A round.
・8 June 2018: 920 million yen from a total of two companies and individual investors to Umitron in early stage.
・7 December 2018: 2.58 billion yen from a total of six companies to Axelspace in the Series-B round.
There is an impression that they are particularly participating in large funding rounds. As public-private investment fund, it seems that they are actively trying to take risks that private funds cannot take.
Focusing on "financing", there are diversity in companies investing. Not just the amount of money but also the relationship between the investor and the ventures is important for investing/financing.
As for VCs and angel investors, the exit and capital gain of the investee company attracts attention. Whereas for investment by operational companies, producing business synergies with the venture company in which they invested is also considered important. By looking at the word "funding" not from the perspective of the amount of procurement but from the perspective of the source company, various possibilities can be found in the field of space ventures.
Financing situation of space ventures overseas
Next, let's compare the financing situation of foreign space ventures with that of Japan.
For the amount of funds raised by Space X and OneWeb is very large, we also created a graph that excluded the companies mentioned above.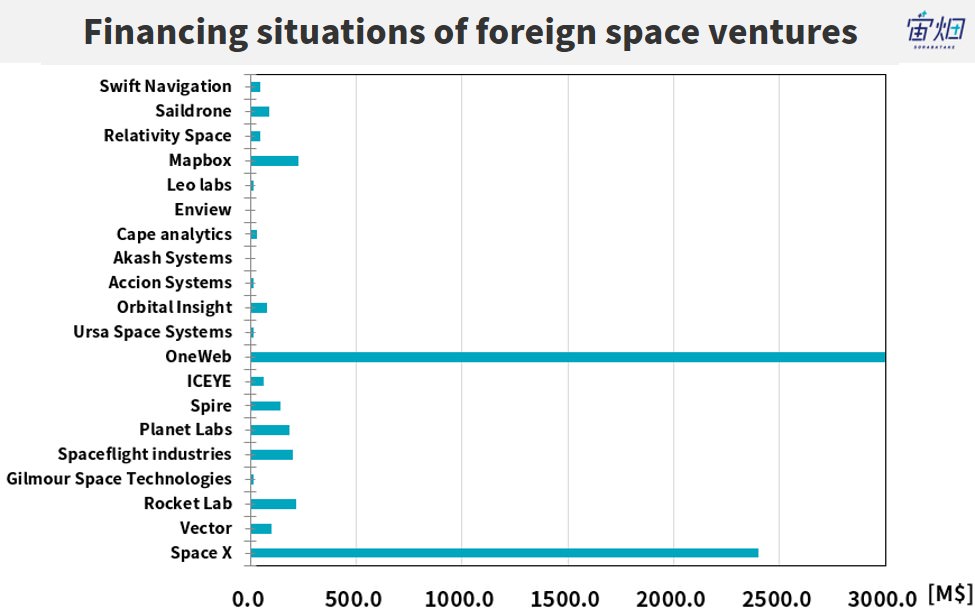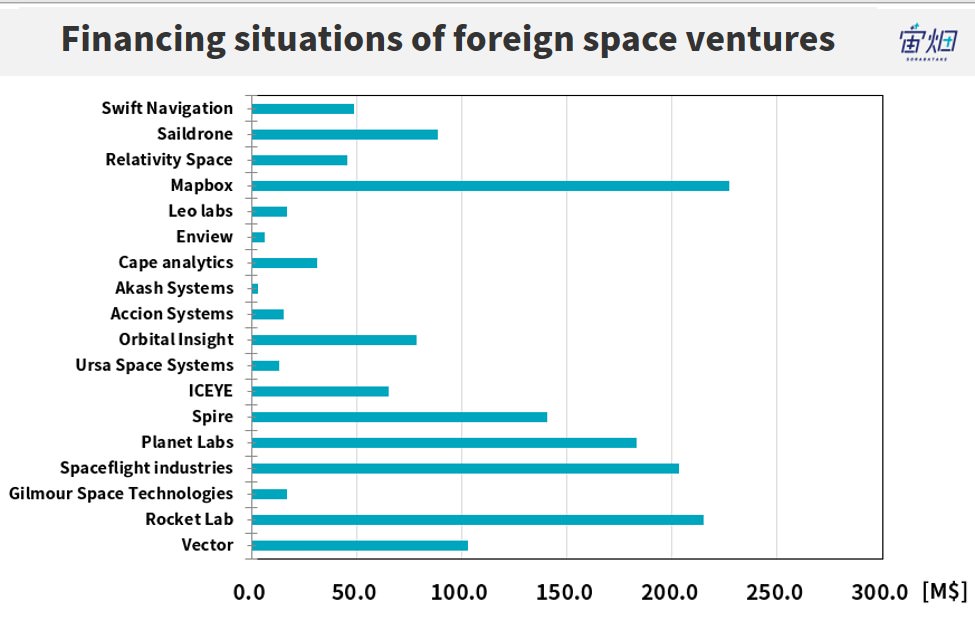 ■Difference in amount of money
Checking the graph above, it can be seen that the amount is very high. Funding amounts raised by space ventures are in the range of multi billion yen. As for the amount of procurement, financing of ispace in Series-A, which was a large procurement in Japan, turns out to be an ordinary amount compared to that of overseas (please check the figure below that shows the amount of procurement in terms of yen). This seems to be the difference between in Japan and overseas; whether the investment in venture companies are valued or not— this can be said to other fields, not limited in the space industry. Nevertheless, investment in space ventures is gradually growing lately in Japan.
Now, let's take a look at a graph that focuses on the largest procurement amount of domestic and foreign space ventures. After all, the state of rich funding can be seen in foreign ventures.
■Differences in companies investing
Checking on the investing companies, most of the funding is from private VCs; this seems to be the difference between foreign and domestic space venture funding. The main reason for this gap is considered to be the difference in funding power of private VCs in the USA and other foreign countries. Because of its rich financial power, they can take the risk of investing a large amount in a space venture. Unfortunately, for Japan, it is still difficult for domestic private VCs to take the same risk. However, as numbers of successful cases in achieving exits or increasing capitals greatly with capital gains grows, it will be possible for Japanese private VSs to take the same "risk" that foreign private VCs takes in investing to space ventures.
In addition to the differences in the funding capacity of private VCs, it is also noted that NASA and other government agencies have declared space ventures as customers in the near future. This trend is also thought to be a reason why large-scale investments in space ventures continues.
In particular, it seems that reason why One Web and other players in the communications field had chance to gain a huge amount of investment was because it possesses potentialities to gain huge direct profits once the business gets on track.
May be an era which the management of space ventures are shifted from a phase managed by external funds to management based on their own profits is just around the corner in Europe.
■ Opinions to overheating investments in space ventures
However, there are opinions that sounds alarm as the heat in investment in space ventures increases around the world.
In the space information website Spacenews, there is an article contributed by Jeff Foust, titled "How the space industry learned to stop worrying and love the bubble".
In this article, the private space industry is ironically described as "Hypergiant Galactic Systems (super huge bubble market)", rather than "Commercial Space Industry".
In this article, following remarks of Ms. Carissa Christensen(*) on the SmallSat Symposium held in Silicon Valley in February this year are posted.
*Carissa Christensen: a chief executive of Bryce Space and Technology which publishes "Start-up Space" (a report on the private space industry).
"I think we are wildly oversupplied with launch concepts and capabilities at this time, given any reasonable forecast for future demand,"
"So, particularly on the small launcher side, we going to see some shakeouts there."
In addition, Mr. Sunil Nagaraj(*) also said as below during a panel discussion at the Commercial Space Transportation Conference held on February 12 in Washington.
*Sunil Nagaraj: formerly worked for Bessemer Venture Partners (an investor of Rocket Lab, which was a great small-sized rocket launch venture), and now a managing partner of Ubiquity Ventures.
"I think it is 100 percent a bubble in the launch sector right now,"
"Some of my brethren have pulled into this sector and invested without pulling back three or four levels into the technology,"
From this article, it can be seen that the U.S. has shifted from a phase in which a large number of players enter the space venture to a phase in which only a few companies that are truly required by the customers survive, and others are deceived.
Of course, since the private space industry is still an immature field, it is necessary to continue on carefully checking the trend of the movement.
Summary
Up to this point, we have looked at the financing situations of space ventures, but the method of financing is not limited to the method mentioned here.
One of the examples is crowdfunding. ispace has successfully raised more than 10 billion yen in the Series-A round, but it also raised funds several times through crowdfunding.
Interstellar Technologies also uses crowdfunding for each launching and raises around 20 million yen. Recently, there is an example of crowdfunding by university laboratory.
When it comes to raising funds for space ventures, the amount of money raised is often noted. Of course, it takes a lot of money to achieve commercialization as soon as possible, and that is a right corporate strategy.
However, a large amount of funding is not essential in order to start in the space business. It is also important to start from something easy.
For example, satellite data platform "Tellus" allows anyone to start a satellite data business for free.
If you are interested in space business, why don't you start taking action from where you can?