New release
The 3 Advantages of the Japan's First Satellite Data Platform "Tellus"
On July 31st, 2018, xData Alliance, the alliance that develops and promotes Tellus, held a press conference, which has drawn a lot of attention.
On July 31st, 2018, xData Alliance, the alliance that develops and promotes Tellus, held a press conference, which has drawn a lot of attention.
In this article, the SORABATAKE editorial department, who actually participated in the press conference, explains the expectations and the 3 advantages of Tellus.
(1) What is the Japan's First Satellite Data Platform "Tellus"?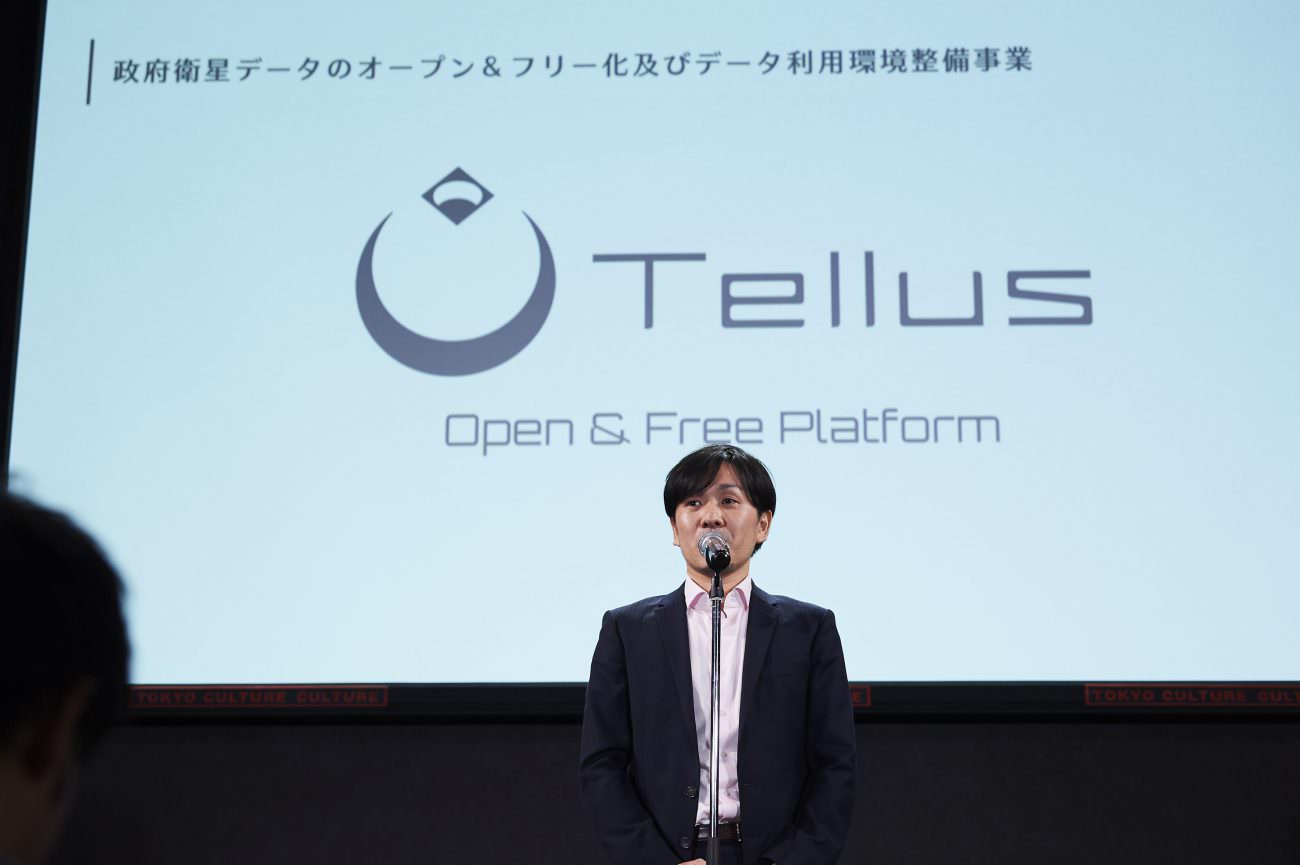 Tellus is Japan's first satellite data platform developed by SAKURA Internet Inc. under consignment from the Ministry of Economy, Trade and Industry (METI).
Based on their own cloud service and IoT platform operations, SAKURA Internet has developed and promoted this data platform, aiming to monetize it in three years.
Tellus hopes to widely spread the use of satellite data, which ordinary people are not familiar with, by offering open and free satellite data including the SAR image data of ALOS-2 owned by JAXA.
(2) Strength of Tellus #1: Outstanding Non-space Players' Participation in xData Alliance
There already exist several data platforms in the world today, however, none of them are widely used. Why?
The clue lies in what Ishida from A.T. Kearney mentioned in the Space Data Business Forum, an event that followed the press conference.
"Space data businesses that the experts might think are useful but that leave users behind will not get anywhere."
"Tellus has a structure that can overcome the challenge."
"It is the establishment of x Data Alliance for the purpose of contributions toward the Tellus development and promotion of the data utilization."
Though some of the players of the Alliance are satellite data suppliers, most of them have little or no prior experience in the space business.
For example, SIGNATE Inc., the operator of the nation's biggest development competition known as a Japanese version of Kaggle, has become a member of the alliance to influx excellent AI resources into space data business. In addition, six VCs participate as investors to provide the financial support necessary to launch a business.
Moreover, in terms of seeking new ways to apply the satellite data, the alliance includes members playing an important role in the future of society, such as a venture company applying cutting-edge AI technology in society and a project creating a virtual Earth with nighttime light.
Satellite data platform Tellus can intertwine human resources and capital of the outstanding non-space players as well as data. This re-designed space data business structure is the greatest strength of Tellus.
(3) Strength of Tellus #2: Lowering Hurdles for Space Data Utilization
Another important issue besides human resources and capital is how much we can lower hurdles to utilize the space data.
[Hurdles #1: Initial investment]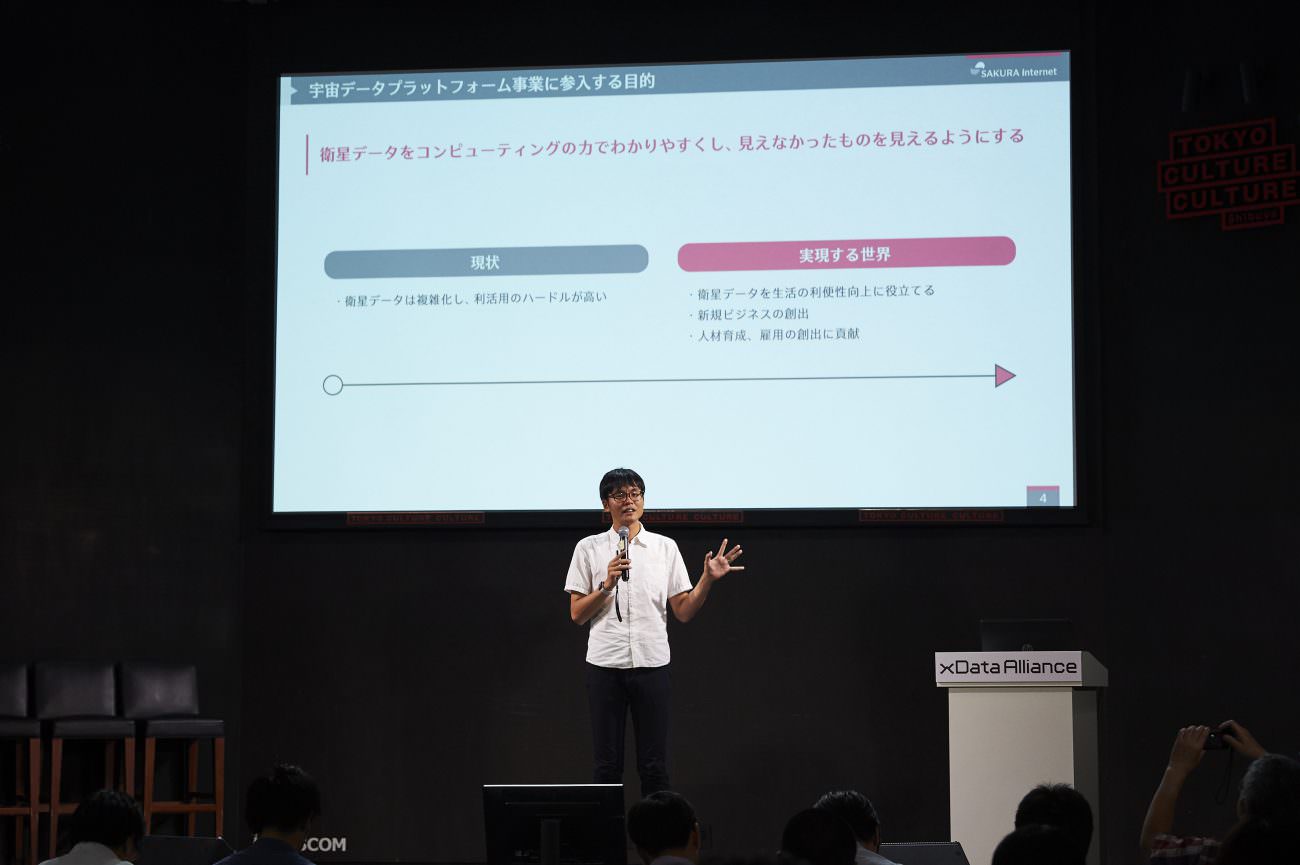 "The reason venture companies are active in the IT industry is because they can make initial investment mostly by themselves. They do not require substantial funding and can test out their own idea. If it does not work, the damage is limited, and they can just try a new one."
Kunihiro Tanaka, the president and CEO of SAKURA Internet Inc., talked about introducing their perspectives into the space data business.
Originally, it was a field that required much investment. A business idea requiring a large investment needs a classic approach including analysis of customer needs and proposing seeds.
The free satellite data enables providing space data at low cost, which makes it possible for people to try them out.
If the cost of the challenge is lowered, people can play around with such data as they like. This creates new innovations.
[Hurdle #2: Usability]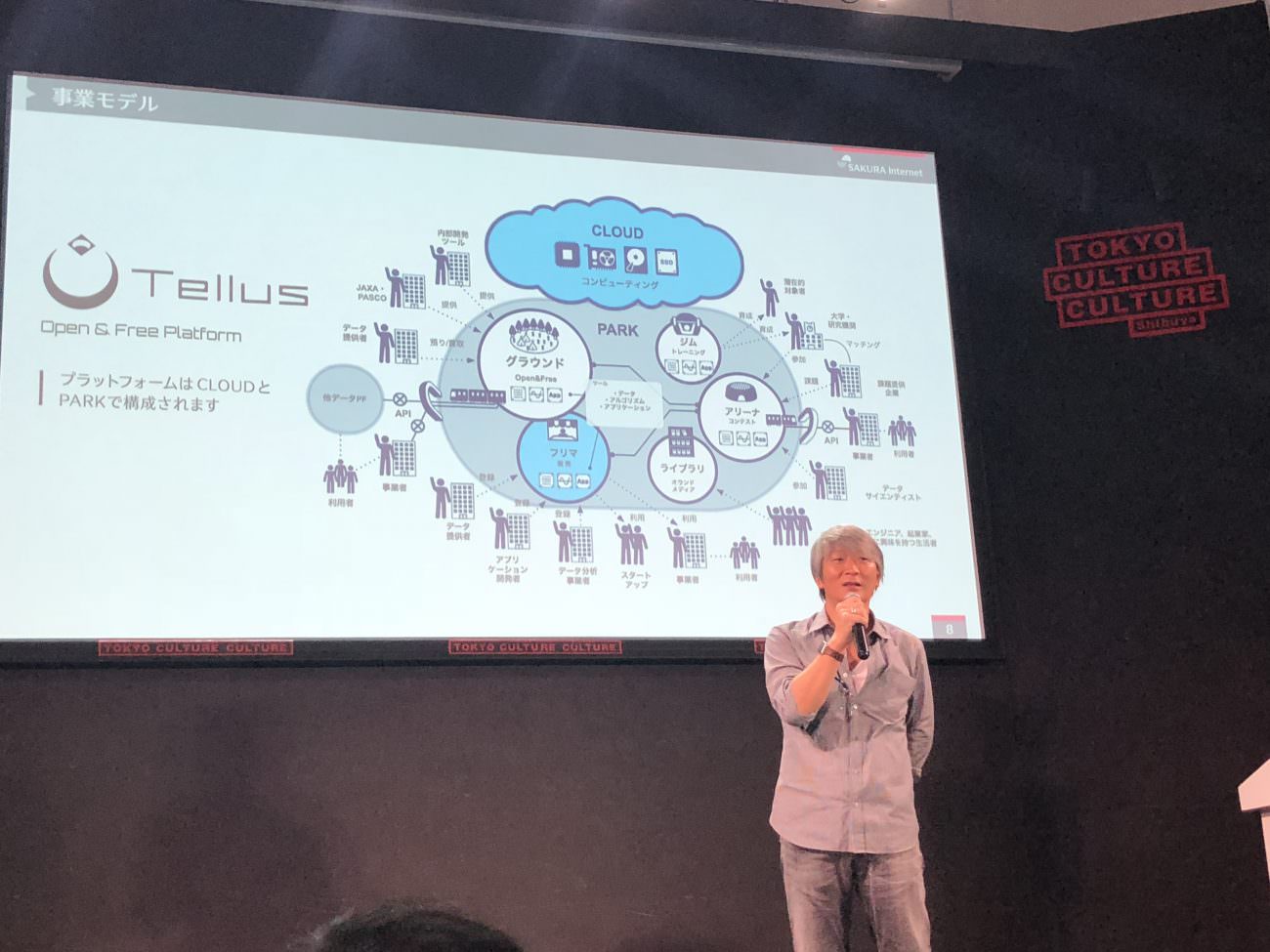 Another keyword mentioned by Ogasawara, a fellow of SAKURA Internet Inc., is "usability."
Though the API is available, people might not want to use it and the number of users would not increase if it is difficult or outdated.
Since existing space data are used only by a limited number of people, there were no perspectives on how people could find the information they were looking for, and how they could retrieve the data they found.
xData Alliance asks the members who actually utilize data to try out and evaluate the API before opening it up to the public. Then, Tellus will provide a structure to create an updated API so that various people can use it easily.
In addition, Tellus will focus on adding various links for the usability such as having the library and providing GIS.
(4) Strength of Tellus #3: Values Generated by Conbining Space Data and Microdata
With the recent growing trends of IoT and big data, a huge amount of microdata, including electronic payment histories and SNS posts, are generated, analyzed and utilized online everyday.
Satellite data, on the other hand, has a macro perspective and therefore is much better at getting an overview.
If we can find the relativity between the microdata and macrodata, we no longer have to analyze vast amount of microdata and can reduce the overall data acquisition cost.
Moreover, taking advantage of the transboundary nature of satellite data, it becomes possible to collect information of the areas which drones or sensors on earth have no access to. It also helps us understand the areas that lack data.
Satellite data is not really usable as itself; it will only work if combined with various microdata such as transaction data and movements of a car on the earth.
And it is the non-space players participating in xData Alliance that have a profound knowledge of micro data.
(5) Expected Use Cases Picked from the Event
As the strengths of Tellus are stated above, what, in concrete terms, are the expected cases of usage?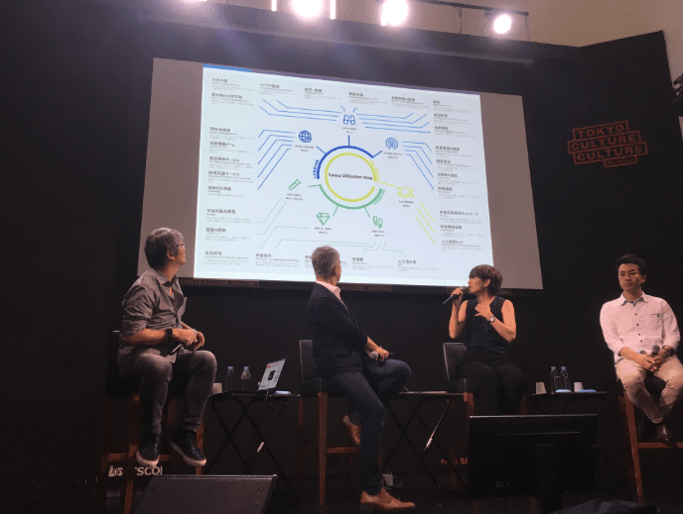 Rent
When deciding where to live, people usually consider such conditions as distance from the station, sunlight, and size. Adding the elevation data obtained by satellite, those who want to do some exercise on the way to work can add new conditions based on changes in elevation.
Logistics
A growing demand from home-to-home delivery services like Amazon has provoked a major crisis. Satellite data can suggest an appropriate delivery route by combining the status of the shipment, the location of the delivery truck, the traffic on roads, and elevation.
Maritime traffic
Since the sea, unlike land, has only limited sensor data, satellite can demonstrate its strength in this area. Digitalization and introduction of automatic operations have been actively performed in recent maritime traffic industry, and the satellite data might be utilized as one of this information.
As Ogasawara mentioned, "Speaking of satellite or space, it may sound like we have to do something magnificent, but we don't," Tellus' ideal is to realize the future where the utilization of satellite data becomes a common practice or a prerequisite in data business.
(6) Summery
This article explained "xData Alliance" and Japan's first satellite data platform "Tellus" publicly disclosed on July 31, 2018.
Though we have pointed out some spectacular aspects, the development has only just begun.
Regarding the question from the audience of what kind of data would be on the platform, xData Alliance answered that it was under consideration, and that they would appreciate it if you could share some ideas of the data to be included.
Do you have a challenge in your own business? Suppose you are one of the users of Tellus, and consider the following: What kind of data is needed to solve problems? How space data can contribute to an answer? Let Tellus know your opinions from the perspective of a persistent user.