Space business
What lies beyond Interstellar Technologies new small rocket, MOMO?
The challenge of Interstellar Technologies Inc. continues. Let us think once again about small rockets and the space industry.
■The launch and results of MOMO2 rocket by Interstellar Technologies
In April, 2018, Interstellar Technologies Inc., a space venture business launched by Takafumi Horie, postponed the launch of MOMO2, due to a technical problem, but the launch was successfully executed on June 30.
MOMO was a sounding rocket, and was a preliminary step toward the ZERO, an orbital injection rocket, and it was another attempt shot, after the No.1 MOMO's sad launch failure last year.
The crowdfunding campaign held in December 2017 successfully raised over 28 million yen, and one could say that it was becoming a matter for the whole country.
The launch, however, ended up in failure.
■The launch and result of No.3 MOMO by Interstellar Technologies Inc. (Added in June 2019)
On May 4th, 2019, the No.3 MOMO was launched, almost a year after our failure.
Having overcome various troubles, the No.3 MOMO made the long-awaited launch.
This challenge was successfully fulfilled by reaching a height of 100 km.
But what should be thought about here is that our challenge doesn't and cannot end with a few successful rocket launches, the new challenge is to generate earnings as a rocket service provider.
A rocket is a carrier that can bring satellites to space. Just like airplanes, trains, or trucks, it can only start to make money if transporting the right people or goods to the right destination.
This article considers this project from the perspective of a rocket business.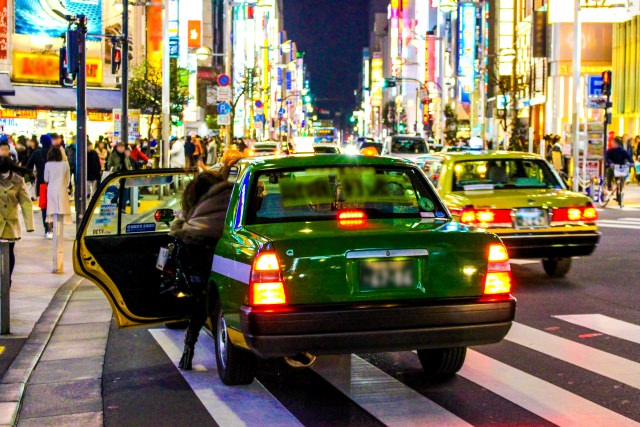 1. Is a small rocket business a taxi business!?
Interstellar Technologies Inc. develops small rockets. As stated above, since a rocket is a carrier, a small rocket can be defined as a carrier that can put a small satellite in space.
This "small satellite" is prevalent in the space industry. The industry is gearing towards producing small, low-performance satellites to reduce costs and through number, could provide unimaginably good unprecedented service.
There are mainly two ways to transport small satellites to space. One is to launch multiple satellites using a big rocket, and the other is to launch a satellite independently on a small rocket. The big rocket has been the main channel, however, recently there are also many venture companies developing small rockets.
The relationship of a big rocket and a small one is, to use a metaphor, like that of a city bus and a taxi.
When you want to visit some place, you need to get off the bus at the nearest bus stop and walk to the destination. The departure time is also fixed, and you cannot ride it any time you want. But the cost is low as you share a ride with other people.
On the other hand, a taxi let you get off by the destination. It offers services at your desired time if you make a reservation by phone. But the cost is higher than that of a bus.
The same thing can be said about rockets.
For a big rocket, the cost per satellite is low as you split the bill with others. But you cannot choose a destination, and the launching schedule is also limited. For a small rocket, on the other hand, you can decide the destination and launching schedule as you like, but it tends to be more expensive.
You may be wondering if there is enough demand for small rockets, as a means of launching a satellite into space, as a business.
Taking a client who would like to use a microsatellite which weighs 100 kg as an example, let us think deeply about the expectations and actual data figures of small rockets.
2. Considerations of the small rocket: launching frequencies and destinations
First, let us look at the frequencies of big rocket launches.
Based on the information in the Spaceflight Industries' website, there were 14 opportunities to launch a 100-kg class satellite into space for two years from 2018 to 2019. This means two launching opportunities every three months. Moreover, the number of rocket launches is expected to increase in years to come.
But since destinations of these rockets are different, not all the satellites have two opportunities every three months. This frequency may not be enough for venture companies wishing to establish a business quickly.
3. Considerations of the small rocket: difference in cost
So how much difference is there in terms of cost?
When you share a big rocket with others, the market price for launching a 100-kg satellite is, about US$4 million, based on the Spaceflight Industries' website. Facing price competition these days, new big rocket ventures are emphasizing and price reduction.
For example, Arianespace, a company with extensive experience in the commercial space transportation market in Europe, is now developing Ariane 6 as a subsequent version of Ariane 5. Compared with Ariane 5, Ariane 6 will be able to eliminate 40-50 % of the launch cost per payload.
Japan is also developing its new rocket H3, aiming to realize a launch costing about 5 billion yen, which is equivalent to half the cost of the launch of the existing H2A rocket.
*Both Ariane 6 and H3 are scheduled to launch their first rockets in 2020.
In short, in 2020. the cost of launching a 100-kg satellite seems to be around US$2 million.
Meanwhile, as for small rocket ventures, Rocket Lab, a company holding a rocket range in New Zealand, is aiming to launch a rocket called Electron at a price of US$5 million or less for up to 100 kg.
This means that, for a 100-kg satellite, transportation on a small rocket, costs more than double that of a big rocket.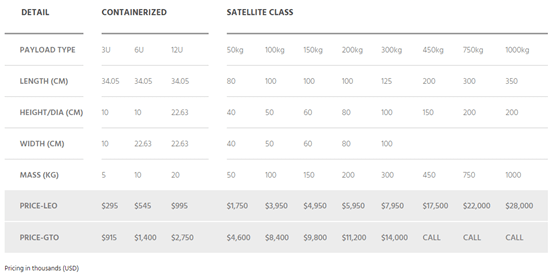 4. Summary of considerations of the small rocket business
As stated above, the small rocket business is competitive by the flexibility of the launching schedule over that of a big rocket; however, as the actual production cost of a satellite is tens to hundreds of millions of yen, the price difference between a big rocket and a small one drastically increases with the cost of having to build another satellite.
There have been skeptical voices in terms of the demand from people who find values in the small rocket and are willing to pay the expensive cost. But Rocket Lab, a small rocket venture, announced an agreement with BlackSky, a small satellite constellation venture, and CANON ELECTRONICS INC. in Japan. Though the pricing has yet to be revealed, it is implied that the two companies have seen advantages in small rockets.
Each company is diligently attempting to acquire clients (small satellite companies) besides those in rocket development. Interstellar Technologies Inc. also needs to put its energy into attracting clients while developing the rocket. We still need to pay attention to the future trends.
5. List of small rocket companies: President, rocket, specs, and progress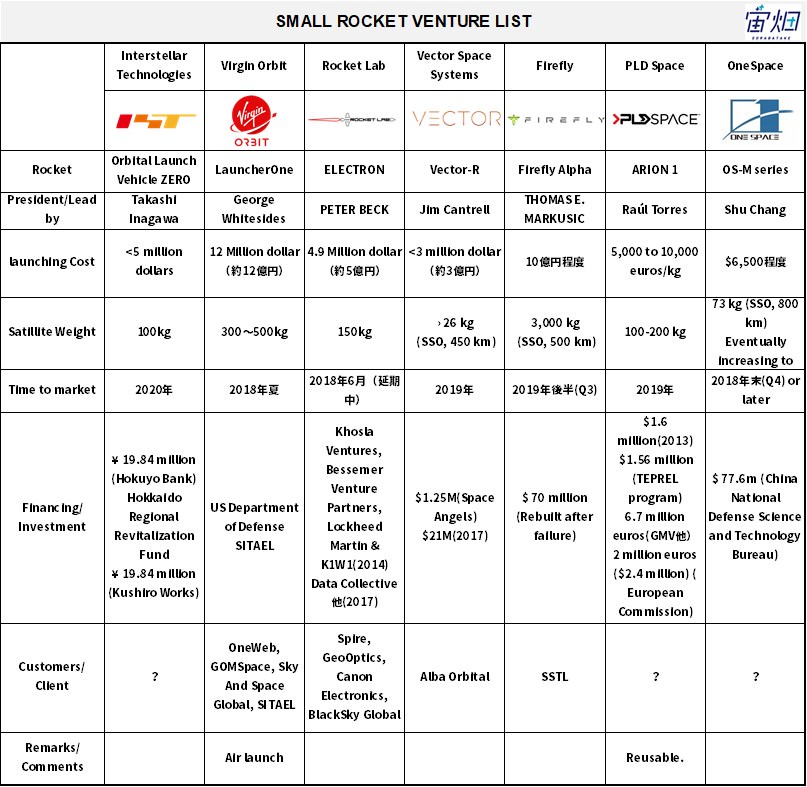 As an appendix, let us introduce global players in the small rocket industry. Though Interstellar Technologies Inc. is leading Japan in the development of the small rocket, how can its progress be evaluated on a global scale?
■Interstellar Technologies Inc.
President: Takahiro Inagawa
Rocket: Orbital injection rocket ZERO
Satellite mass: 100 kg
Launching price: 100-500 million yen
Progress: It is developing the sounding rocket MOMO as a preliminary step toward the orbital injection rocket, ZERO. First MOMO could not reach the target altitude of 100 km. No.2 MOMO will be launched at the end of June. A (satellite) client contract (satellite) has yet been published.
■Virgin Orbit
President: George Whitesides (founded by businessman Richard Branson)
Rocket: LauncherOne
Satellite mass: 300 to 500kg
Launching price: 12 million dollars (about 1.2 billion yen)
Progress: The first rocket launched in summer 2018. It concluded an agreement in 2015 with OneWeb, which plans a satellite with a mega-constellation of communications. It also concluded an agreement in 2018 with GOMspace, which engages in microsatellite production and sales.
■Rocket Lab
President: PETER BECK
Rocket: ELECTRON
Satellite mass: 150kg
Launching price: $4.9 million (about 500 million yen)
Progress: First launch in May 2017 failed to attain orbit, but the second attempt in January 2018 was successful. Commercial launch plans in June 2018. Clients are Spire and GeoOptics. It announced an agreement with CANON ELECTRONICS INC. in Japan and BlackSky Global for its second commercial launch.
■Vector Space Systems
President: Jim Cantrell
Rocket: Vector-R
Satellite mass: › 26 kg (SSO, 450 km)
Launching price: less than $3 million
Progress: It announced at the beginning of 2018 that a testing rocket would be launched in Alaska at the end of the year. Later it also announced that microsatellites would be launched by 3 rockets. The first microsatellite is going to be PocketQube, which is smaller than CubeSat, developed by Alba Orbital. Eventually, it plans to launch 100 rockets every year.
■Firefly
President: THOMAS E. MARKUSIC
Rocket: Firefly Alpha
Satellite mass: 3,000 kg (SSO, 500 km)
Launching price: About 1 billion yen
Progress: The first rocket will be launched in the latter half (Q3) of 2019. It was announced earlier this month that SSTL, a leading small satellite development company in England, would launch six satellites using Firefly. Eventually, it plans to launch 24 rockets per year.
■PLD Space
President: Raúl Torres
Rocket: ARION 1/2
Satellite mass: 100-200 kg
Launching price: Arion 1:5,000 to 10,000 euros/kg /Arion 2, between 35,000 and 30,000/kg
Progress: It plans to launch the first Arion 1 rocket in 2019 and then put Arion 2 into low orbit. It aims to make both rockets reusable.
■OneSpace
President: Shu Chang
Rocket: OS-M series
Satellite mass: 73 kg (SSO, 800 km)
Launching price: Around $6500
Progress:It plans the first launch in the end (Q4) of 2018. It seems that eventually OneSpace is aiming to launch 500-kg payloads and, just like SpaceX, develop reusable models. The estimated launching cost is one digit smaller than that of the other countries. If the year-end launch becomes successful, it must put other companies under a lot of pressure.
As you can see from the above, Interstellar Technologies Inc. may not be at the top, compared to small rocket development companies in the world when we simply focus on progress.
However, there are also many factors that boost the developing speed of Interstellar Technologies Inc. including: the backup support provided by Taikicho (rocket range location), the high-risk investments made in the space business by the Japanese government, and the excitement of crowdfunding, mentioned at the beginning.
As the space business media promotes the theme of "making the space industry big so Japan can be proud" we continue to root for Interstellar Technologies Inc. and would like to try to provide good support.