Introduction
Small radar satellites attract the world's attention! — The potential of Japan
Small radar satellites, which were said to be one of the most technically challenging small satellites, are beginning to launch into space. Let's have a look at the small radar satellite market.
There is a quiet "small radar satellite" boom in the space industry now. We have already introduced NEC's SAR satellites in the previous article "What is a SAR satellite? ASNARO-2 expands the potential of the space business"
It had been said that miniaturization of SAR satellites was technically impracticable until recently, but space ventures worldwide begin to prove the feasibility of it.
Here, we take a look at the outline of small radar satellites, leading space ventures across the world that are developing small radar satellites, and their potential.
What is a small radar satellite? — Features, challenges and use
Radar is a sensor system to observe objects using radio waves. Regular optical sensors can't observe places that are dark or covered with clouds, but you can use radio waves to observe such places.
That is, with the help of radar, you can potentially observe areas that you can't with optical sensors although radar is unable to distinguish colors of objects and it produces black-and-white rough images. It is somewhat like an ultrasound scan image for pregnant women though the mechanisms behind them are different.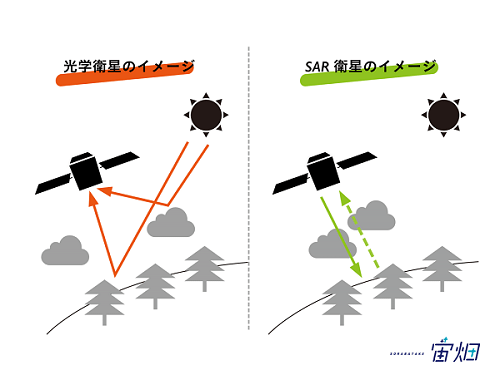 Radar satellites date back many years. Japan launched its first satellite with a radar sensor called JERS-1 in 1992.
Then why is there a radar satellite boom now? "Miniaturization" is the answer.
Because radar satellites emit radio waves to observe objects, they require more electric power than satellites with optical sensors, which use the reflection of sunlight. To generate ample electricity, satellites need larger solar panels and batteries on them. This requirement made it difficult to equip small satellites with radar systems.
However, thanks to the progress of technology, radar systems can now be installed on certain types of small satellites by specifying its usage. Miniaturization of satellites lowers the cost per unit, so that more radar satellites can be launched. Operating more satellites allows for more frequent observation.
Miniaturization of satellites was first achieved for missions using optical sensors because it was technically easier. However, after they launched them, it turned out that the earth's surface was often covered with clouds and observation couldn't be conducted as frequently as expected. This was a big problem especially for Southeast Asia, which has many clouds over it.
If we have launched multiple small radar satellites to establish an observation network, we will be able to carry out more frequent observations. Optical imaging satellites can't do this on their own. It is suitable for observations of rapidly-changing things such as natural disasters and ice floes.
It will also enable us to observe the earth's surface at night. It might help monitor some night-time activities including illegal boat operations in seas as well.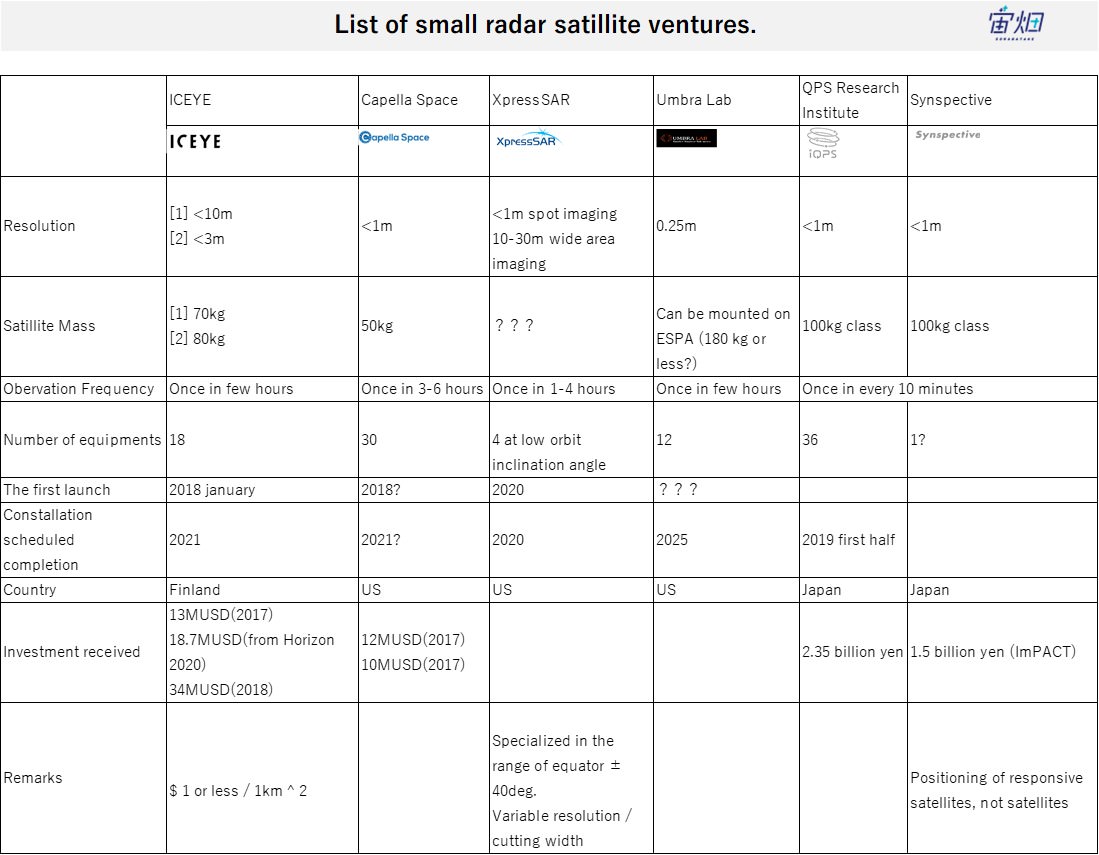 The Finnish space venture ICEYE leads the world
The Finnish space venture ICEYE is one step ahead of the competitors in the worldwide small radar satellite market. ICEYE launched its first satellite ICEYE-X1 in January 2018. This satellite successfully delivered 10m-resolution images. This firm has secured more than three billion yen, planning to build more satellites.
Besides ICEYE, Capella Space, XpressSAR and Umbra Lab have announced their plans to create small radar satellite constellations. Small radar satellites are about to proliferate in space.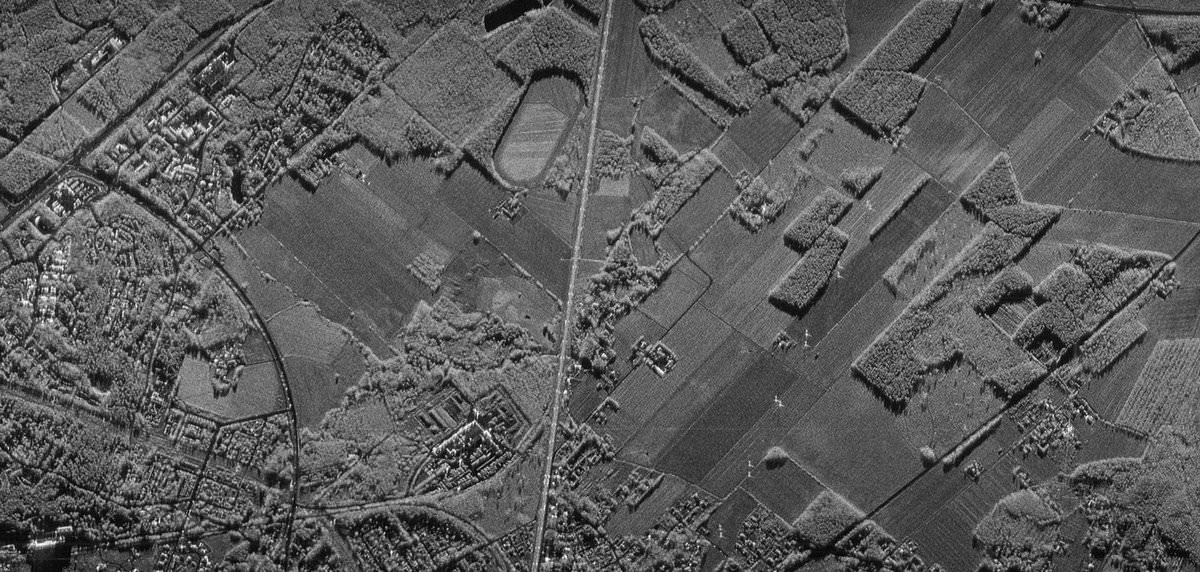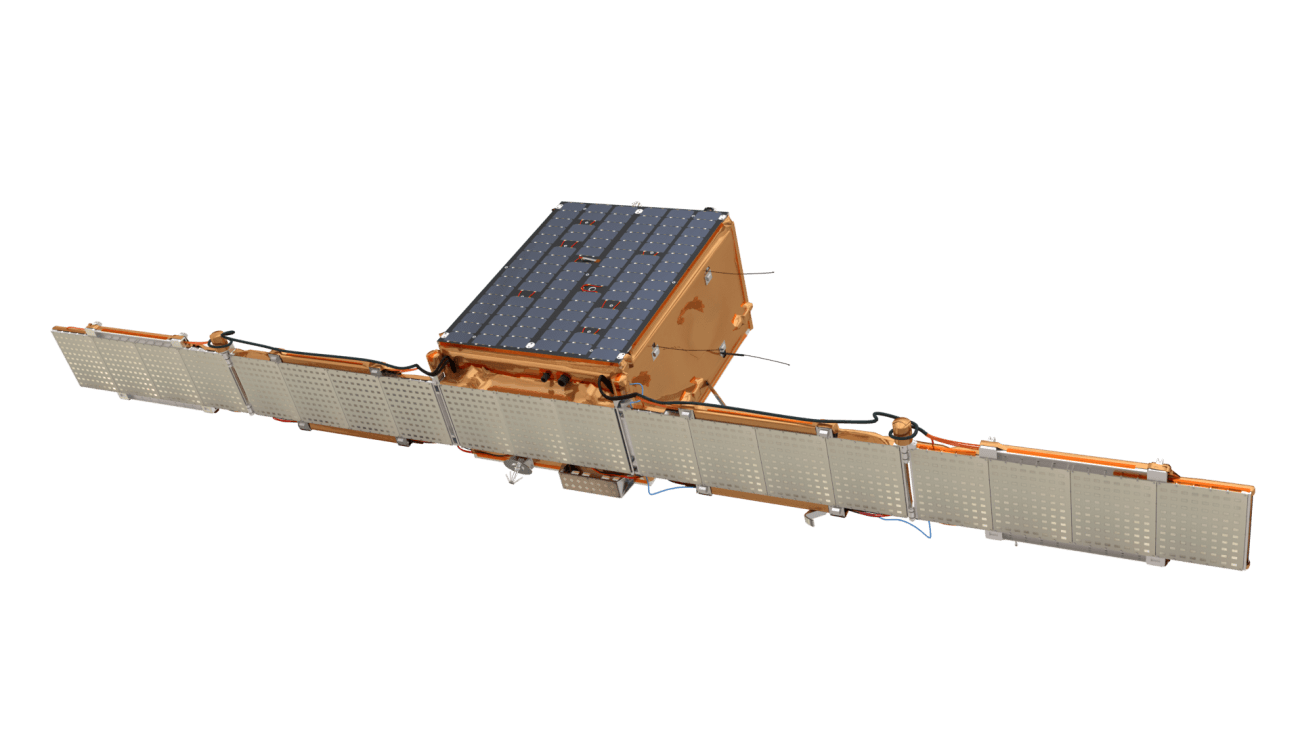 iQPS Inc. as well as ImPACT program are developing small radar satellites in Japan
In fact, Japan is also very competent in this area.
iQPS Inc., a venture that originated in Kyushu University, has secured 2,350 million yen to launch 100 kg-class satellites that conduct radar observations. In spite of the similar weight, its resolution is as high as 1m, which is one-tenth of ICEYE's satellite. The southern Japan based venture plans to launch 36 such satellites that capture images of every area in the world every 10 minutes in order to make a "semi real time Google Map". (* 1)
*1: iQPS Inc.'s small SAR satellites (presentation material in Japanese for a local club; March 4, 2017; QSSF向けQPS小型SAR衛星説明資料)
http://kyutech-laseine.net/news/img_news/qps.pdf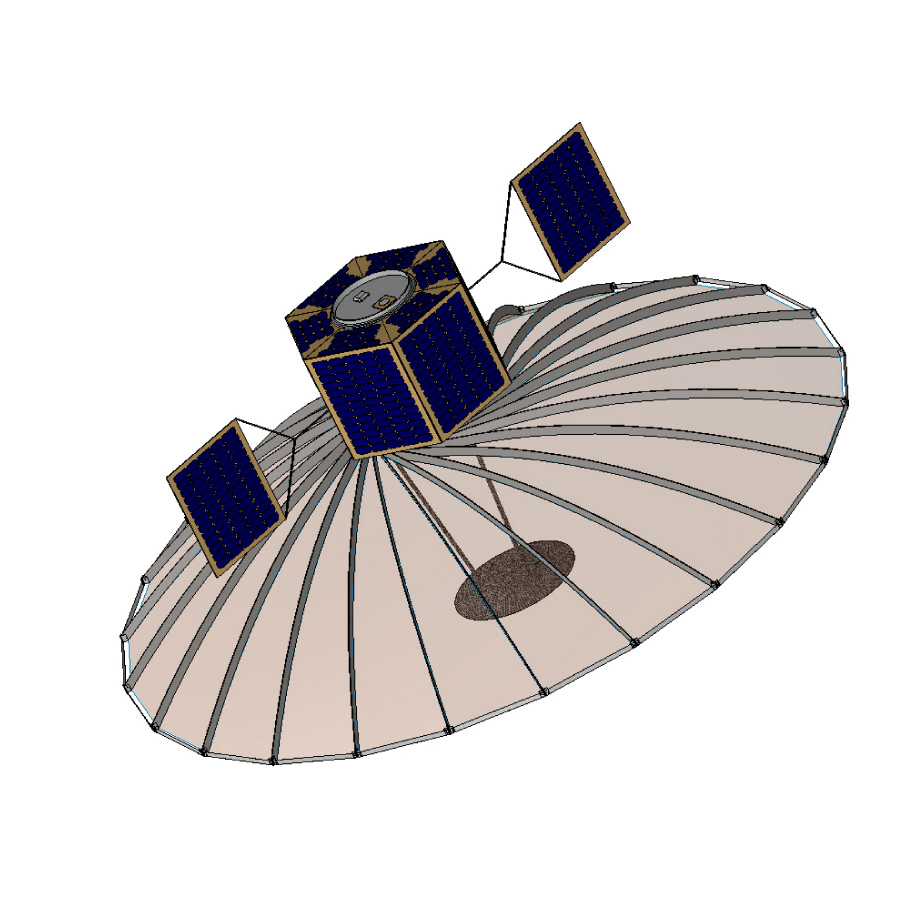 Professor Seiko Shirasaka of Keio University also leads a project called "Small Synthetic Aperture Radar Satellite System for On-Demand Observation", one of the R&D programs of the government-hosted "Impulsing Paradigm Change through Disruptive Technologies Program (ImPACT)".
This project offers 100kg-class satellites with a resolution of 1m, which are similar to iQPS Inc.'s, but these satellites are supposed to be launched immediately in case of emergency for immediate observations.
The project boasts excellent members: Professor Hirobumi Saito of JAXA participates in the development of the radar sensor, and Professor Shinichi Nakasuka of the University of Tokyo, the leading engineer of small satellites in Japan, in the development of the satellite.
They plan to establish a company called Synspective as the output of the project to promote the use of its SAR images.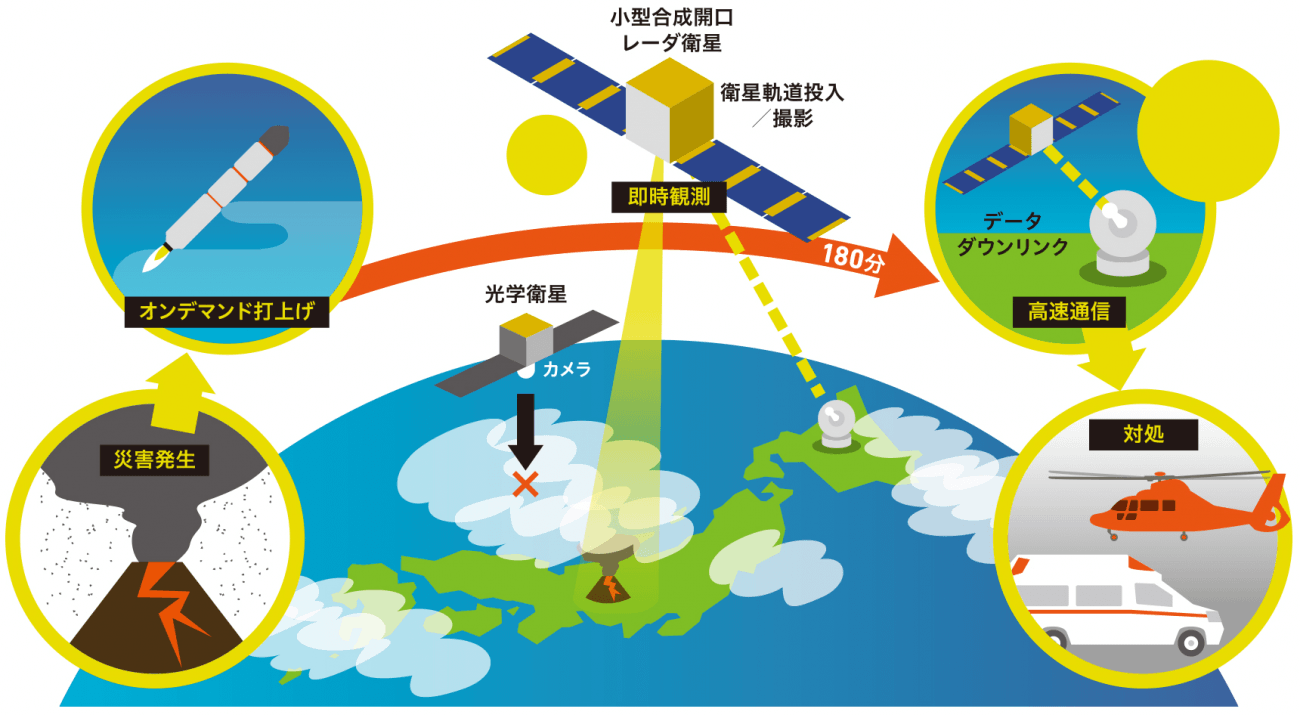 Summary — The potential of small radar satellites
In this article, we introduced small radar satellites, which are becoming more common these days.
Foreign space ventures are ahead of us in this area, but Japanese ones are actively competing with them. This is one of the fields where Japan has the potential to take the lead.
On the other hand, we haven't found out enough ways to use radar images that have been captured so far, compared to simpler optical images. The key is to work out what knowledge we can gain from radar images and how users can make good use of the information.