Space business
Key events in the space industry in 2019 — Check out these seven selected topics
Let's check out important events and trends in seven selected areas in the space industry of 2019. Sorabatake's choice of hot topics for 2020 is also mentioned at the end of the article so don't miss it.
How was your 2019? When we reviewed the five topics we selected for 2018 in Key events in the space industry in 2018 — check out five hot topics, we chose "private lunar exploration" and "satellite data platforms" as key words of that year.
In this article, we check out these two key words as well as other notable events in the space industry of 2019 in seven broad topics, namely "human spaceflight", "lunar exploration", "rockets", "satellites", "space utilization", "funding" and "new entrants".
(1) Human spaceflight
The first private spaceflight was expected to be accomplished in 2019, but has been delayed until this year.  Virgin Galactic and Blue Origin are both conducting many test flights to start their spaceflight service. The first spaceflight for private citizens by a private company is planned to be offered in 2020. To provide this service, spaceports where spacecrafts can lift off and land are also being developed.
Virgin Galactic is a company that attracted considerable attention when it went public. After the IPO, its share price stayed quite low for a while, but as of December 30, 2019, the price has regained back to the level it was when first listed.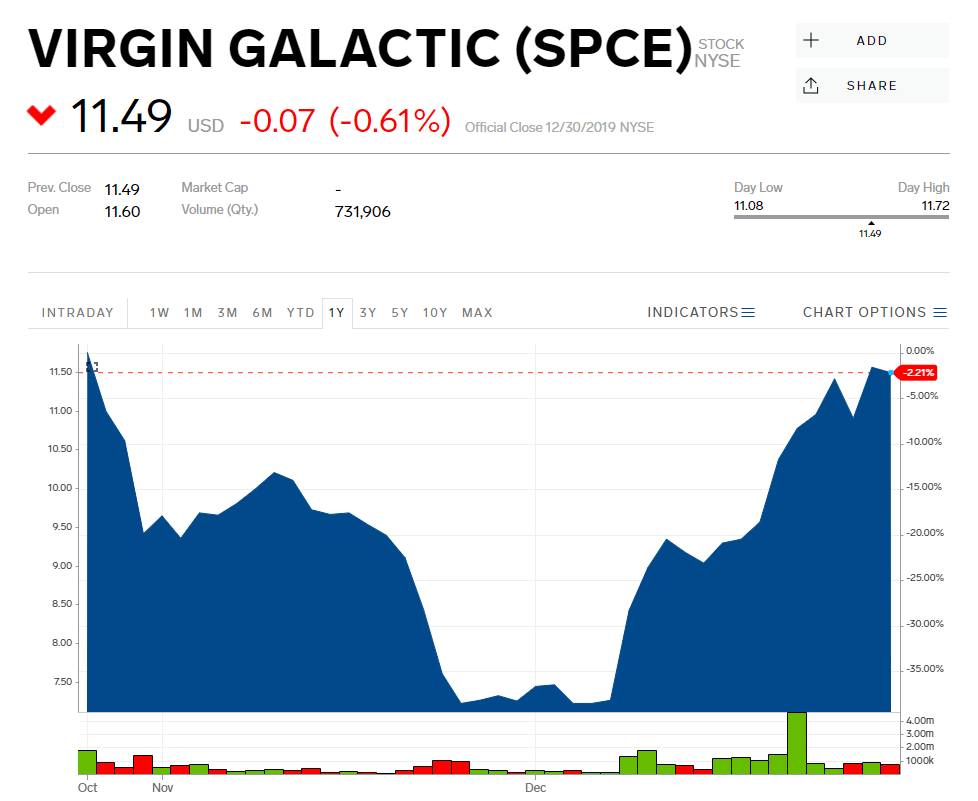 There are also national projects for human spaceflight. Russia announced the resumption of its spaceflight service while assessment of manned spacecraft developed by SpaceX and Boeing under a contract with NASA are seeing constant progress. If everything goes well, these companies will take people to the ISS in 2020. Everybody has relied exclusively on Russia for transportation of people to the ISS for years. The US is going to send people to outer space for the first time in nine years after the space shuttle retired in 2011.
Human spaceflight will likely bring about new businesses, significantly contributing to the expansion of the market. For example, in addition to aforementioned spaceports, various companies such as space suit manufacturers, travel agencies and firms that monitor spaceflight routes will possibly come along. Let's see what new businesses will appear in relation to human spaceflight.
(2) Lunar exploration
2019 is the 50th anniversary of Apollo 11's lunar landing.
China National Space Administration's unmanned probe Chang'e 4 made a mark in space development history when it touched down on the far side of the Moon in January 2019.
Furthermore, they successfully germinated seeds of cotton, potato, rape, etc. on Chang'e 4, germinating plants in the lunar environment for the first time.
There was a non-governmental lunar exploration project, too. A private Israeli organization SpaceIL launched the lunar lander Beresheet in February 2019. It successfully entered lunar orbit, but failed to soft-land on the Moon. Anyway, its successful entry into lunar orbit was a great achievement. They showed off their advanced technologies to the world.
Similarly, India's Chandrayaan 2 took off for the Moon, but didn't achieve a soft landing. Both countries continue to head toward the Moon, so we can still expect big accomplishments from them in the future.
The project that appeared most often in news headlines might be the Artemis program by NASA of the USA. This program plans to build the "Gateway" space station in lunar orbit as well as land a manned spacecraft on the Moon by 2024.
The large number of NASA task orders to private companies is notable. Systems for payload delivery to the Moon are individually developed by Astrobotic and Intuitive Machines, two of the companies selected for the CLPS (Commercial Lunar Payload Services) project. They aim to launch their machines in July 2021.
November 2019, five more companies, including Space X and Blue Origin, were added to the CLPS project, causing concern about intensified competition amongst the contractors.
The key word for lunar developers is "sustainability". At the present stage, unlike the Apollo program, the important thing to do is to establish necessary technologies whilst being engaged in lunar development projects hosted by the government.  This would lead to building a reliable business platform that allows people to stay on the Moon uninterruptedly; otherwise the project and those companies can't and will not succeed.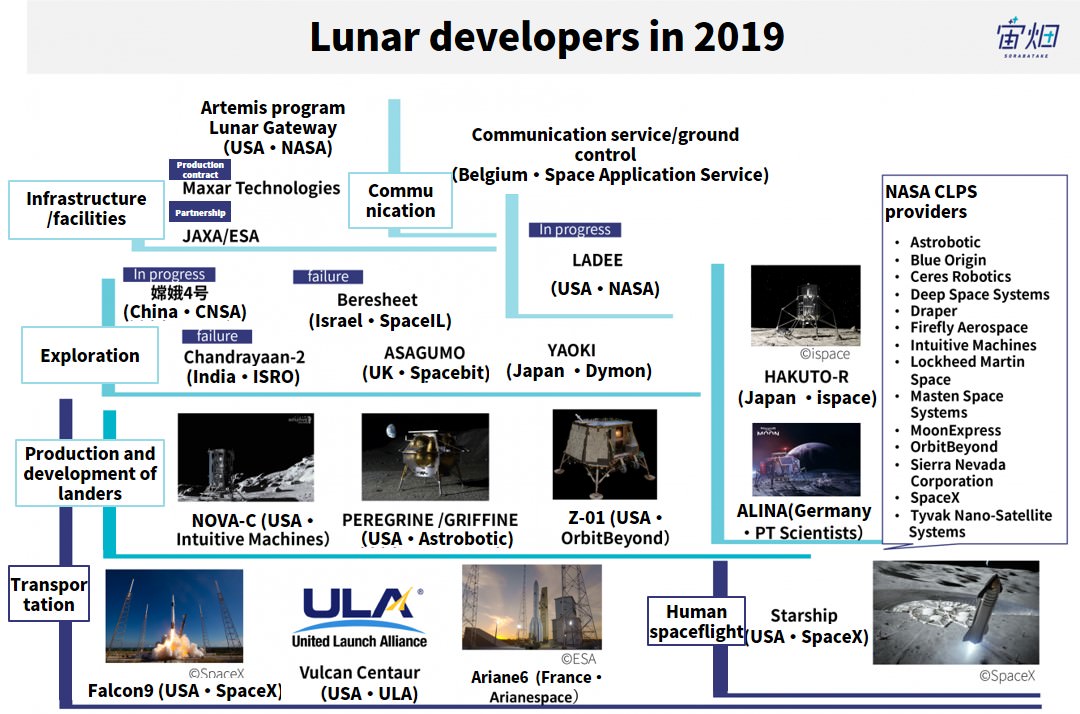 (3) Rockets
SpaceX launched rockets 13 times in 2019 in total (Falcon 9: 11 times, Falcon Heavy: twice). As SpaceX has been reusing the first stages of the rockets since 2017, its rocket booster recovery operation has become quite familiar. In 2019, it finally succeeded in fairing recovery, too. The company carried out the first commercial launch of Falcon Heavy, the rocket that recently sent away the red Tesla Roadster into space, in April 2019.
In addition, on September 28, 2019, SpaceX unveiled the prototype of a new-type of rocket StarShip. This is the rocket that's going to take Mr. Maezawa to space. The newly-revealed Starship is about 165 feet (about 50 m) tall and 30 feet (9 m) in diameter, designed to carry up to around 100 people. It will be attached to the top of the large Super Heavy rocket when launched. Super Heavy is under development by the company. A test launch of Starship's prototype, Starhopper, was conducted in 2019, when it made a 150 m-high "hop" and then landed successfully.
Rocket Lab, the world's leading small rocket manufacturer, carried out six commercial launches without failure in 2019. This company recently launched DARPA's (the Defense Advanced Research Projects Agency) satellite as well as receiving a five-year FAA license after consistently enhancing the reliability of its launching operations. In August 2019, it announced the commencement of their plan to recover the first stage of their rockets. There are arguments for and against recovering the first stage of small rockets, which might not be large enough, like SpaceX, to make their recovery cost-effective. However, the company's CEO Peter Beck says they don't reuse the rocket part to reduce cost but to reduce opportunity loss due to unavailability of rockets. His words seem to show their ambition of dominating the growing market of small rocket launches.
A Japanese space venture Interstellar Technologies successfully launched their rocket MOMO-3 in May 2019, too. It's become the fourth company in the world to reach outer space with an in-house, liquid-fueled rocket.
Another small rocket maker VECTOR was considered one of the runners-up to Rocket Lab. The company won a contract with the U.S. Air Force and seemed to be moving ahead with developments towards a rocket launch, but suddenly announced its shutdown, dismissing all its staff in August 2019 and filing for Chapter 11 bankruptcy in December of that year.
While space ventures accomplished their launches, Arianespace failed to launch its small rocket Vega on July 11, 2019. It is investigating the cause now, aiming to launch the rocket in the first quarter of 2020.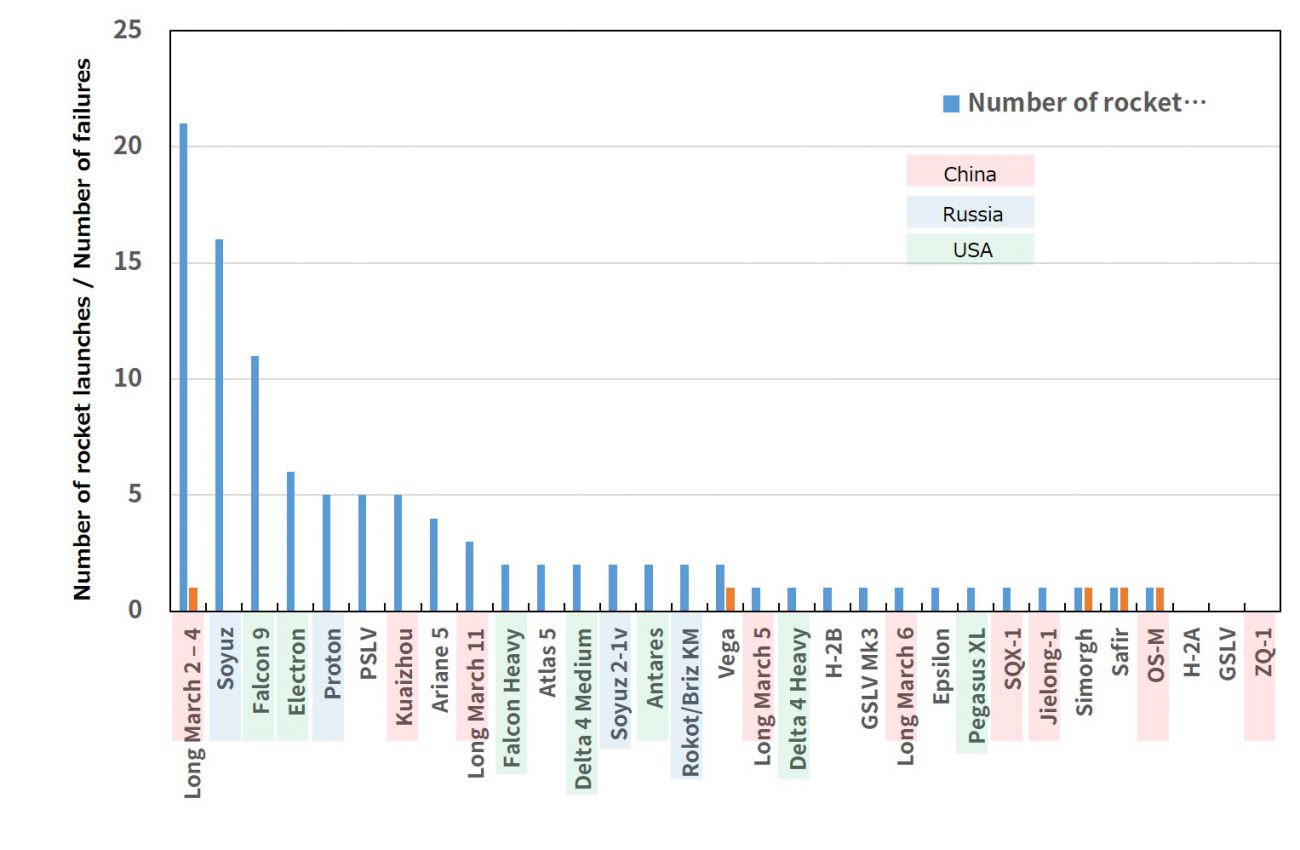 The graph above shows the number of rocket launches in 2019. China's Long March rockets carried out the largest number of launches that year. Including private launches, China flew rockets 33 times in total, ranking first for the second straight year.
(4) Satellites
There were quite a few events in the satellite field, so we group them into two subtopics, namely observation methods and constellations.
4.1. Efforts to implement new observation methods/services
There were three major pieces of news about small satellites in 2019.
The first was the establishment of a new observation method by HawkEye 360. The company successfully determined the position of vessels by receiving RF (Radio Frequency) signals transmitted from the Earth with three satellites. The second is about Spire Global, a company famous for its AIS (the vessel locating system) satellite service. In addition to AIS (and ADS-B, the aircraft locating system) equipment, its satellites carry GPS signal receivers (GPS-RO receivers). You can analyze the condition of the atmosphere from these satellites' observation data. Leveraging this data, Spire Global introduced a weather forecast service. The company plans to focus on its existing services rather than increasing satellites in orbits. This venture is expected to hold its IPO eventually. The third is SSTL's success of experiments on debris capture in orbit, where its satellite caught debris, which were released or held at a distance by the satellite itself, using a cast net or a harpoon. The company is now developing a satellite for a debris capture demonstration (ELSA-d) with a Japanese venture Astroscale, expecting to launch in 2020.
Small SAR satellites gave us plenty of news in 2019 as well. ICEYE started commercial sales of high-resolution-observation-mode satellite imagery. Capella Space is assessing the quality of images captured by satellites it has launched, planning to launch seven additional satellites and begin commercial sales in 2020. A Japanese firm launched a satellite as well. iQPS is now conducting early stage operation of the satellite, aiming to publish its satellite imagery at the beginning of 2020.
Planet Labs is the pioneer of the Earth observation satellite constellation. The company stated that it would upgrade its satellites flying in orbit, planning to add four frequency bands to the existing four bands of its 3U CubeSats (nanosatellites) as well as raising the ground sample distance (GSD) of its 100 kg-class satellites from 1 m to around 0.5 m. Thus Planet Labs, which already has many satellites orbiting the Earth and, accordingly, a high temporal resolution of observation, decided to dramatically enhance the performance of them in 2019. It will be exciting to see what new service it offers with the improved satellite imagery in 2020 or later.
4.2. Increase of large constellations
We heard about "satellite constellations" even more often in 2019 than ever. Planet Labs has led the low-Earth-orbit constellation market, but OneWeb, SpaceX and even Amazon have entered this field for communication network expansion.
OneWeb successfully sent its first six satellites into orbit in February 2019, aiming to start its commercial service in 2021. Furthermore, it announced a partnership with SoftBank in July 2019. The partnership with a major communication company that has advanced technologies is expected to accelerate the progress of OneWeb's business.
Meanwhile, SpaceX launched 60 satellites in May and November 2019 each to ultimately establish a constellation with 12,000 satellites in total. The company's Starlink satellites remain so bright for a while after launch that they are clearly visible even to the naked eye. Some argue that they spoil the night sky. SpaceX will continue to launch satellites regularly in 2020.
Amazon is going to participate in the competition in 2020 or later.
There are a load of companies that are interested in businesses using satellite constellations; a Chinese blog provides the following list. Not all of the companies can complete their projects, but let's see how many of them hang in there and what new players come in.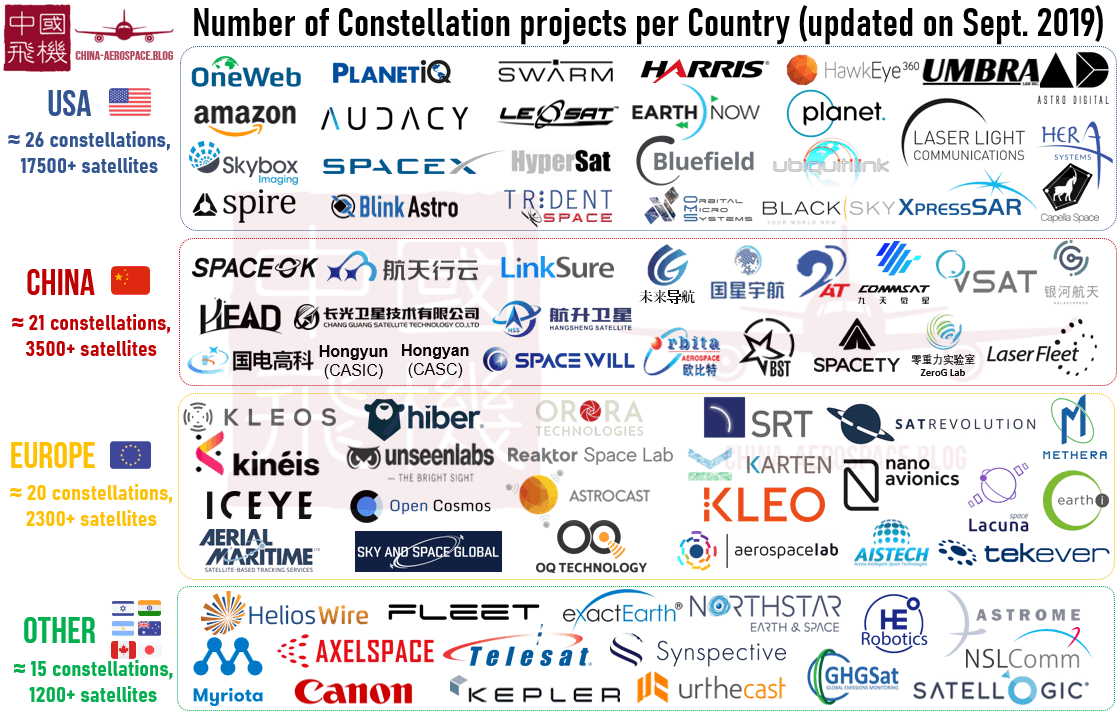 (5) Satellite data platforms
The US government and European governments were the only governments that offered satellite data platforms, but Tellus, from which any platform media is run and owned by Sorabatake, was launched on February 21, 2019.  China's satellite data platform followed it.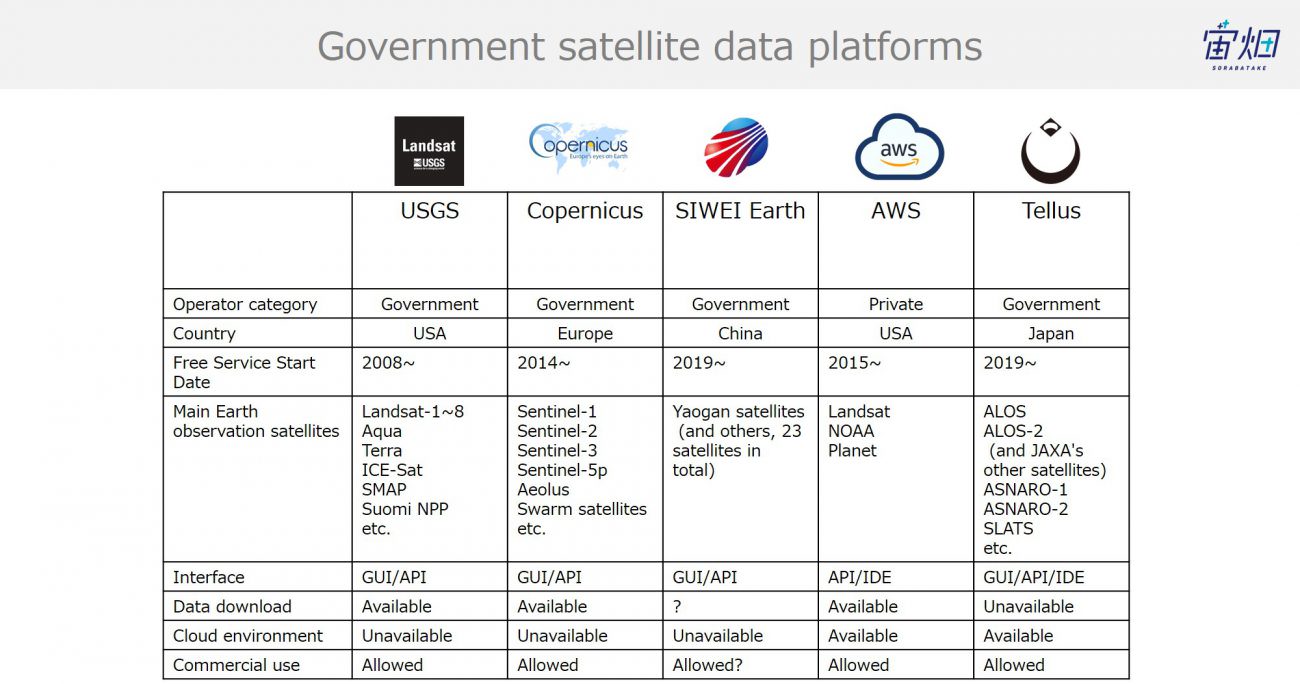 There are even more players that provide satellite data platforms in the private sector. The picture below shows some of the companies/ventures that have built their own platforms.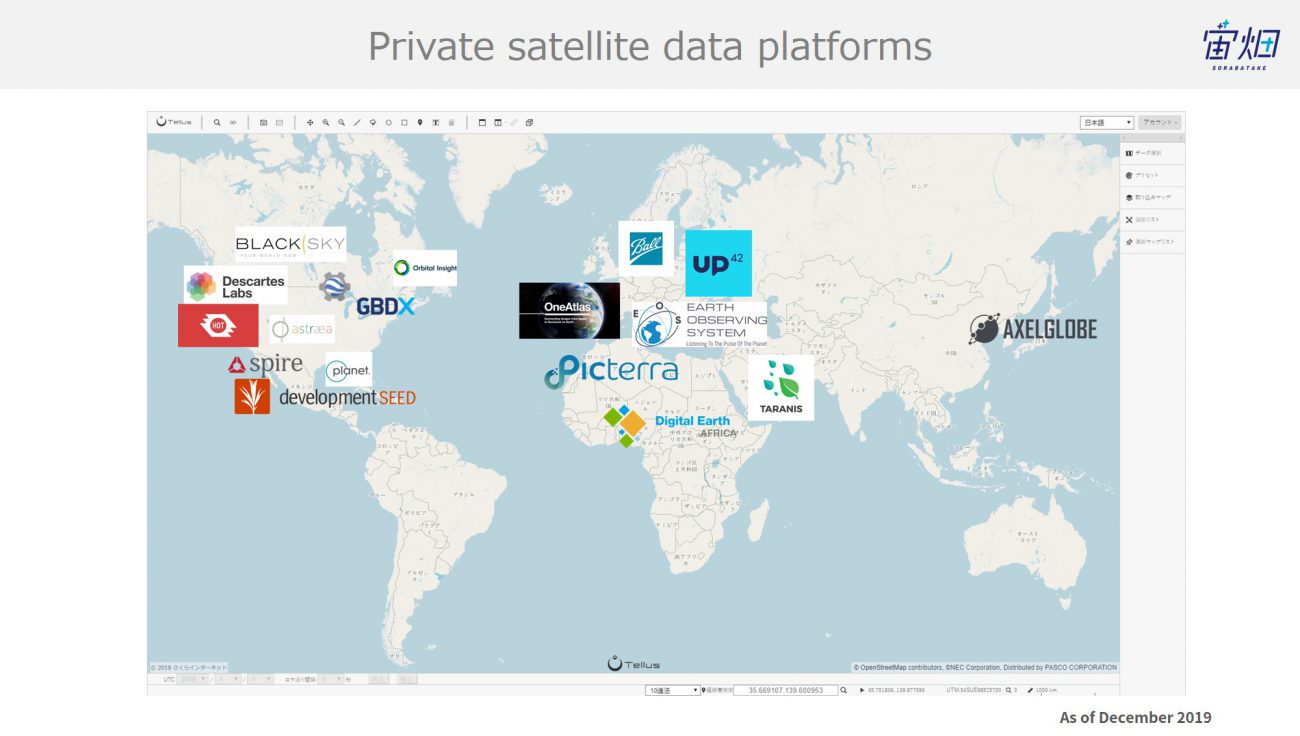 Before, most of the platforms only provided satellite imagery. Nowadays, however, companies that don't develop or operate satellites have begun launching platforms. Those without their own satellites tend to modify satellite imagery into more meaningful forms and provide easy-to-use APIs so that you can analyze their images with programming languages such as Python. Though there are not many businesses using satellite data now, it will be interesting to see what new service are invented from 2020 on.
(6) Funding
There was a lot of news about investment in private space ventures in 2019 just like in previous years. Among large-scale investments, Relativity Space's Series C funding round attracted attention, raising $140 million. The company, which aims to manufacture a small rocket using a 3D printer, has so far collected $185.7 million in total funding.
HawkEye 360 raised $70 million in its Series B funding round, which became another large-scale investment event. This company has so far collected $99.3 million in total funding.
In Japan, a space venture Synspective, which is developing small SAR satellites, raised 86.7 million yen in its Series A funding round. It collected 100 million yen in the shortest period in the world, namely 17 months from its foundation, and the amount of capital is one of the largest that a Japanese venture has raised.
100 million yen is a benchmark for a successful space venture. Synspective is the third Japanese space venture to raise this amount (the other two are ispace and Astroscale).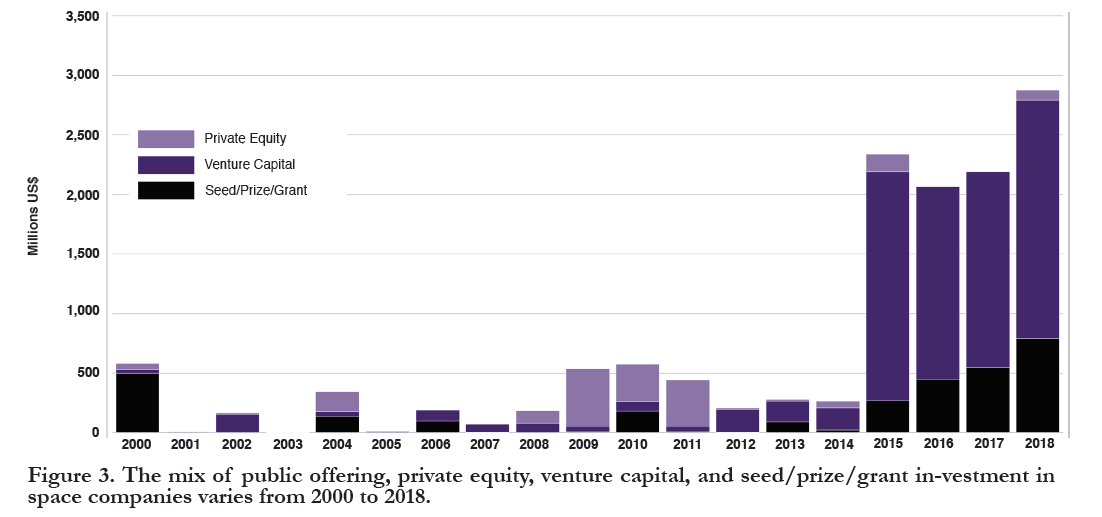 As shown above, investment in private space industry is increasing, with the total private VC investment in 2018 amounting to 200 billion yen.
In 2019, Private VC continued to be the biggest source of capital, accounting for most of the investment, while regular companies invested little in that year.
While seed investments in startup space ventures are expected to increase in the US, some think perhaps it's going to become harder for a space venture to get enough funding due to legal changes.
Morgan Stanley held its second space summit for investors in December 2019. The number of participants tripled from the first summit. Attendees' understanding of the space industry has been deepened as well. We felt like this series of summits would attract more investors who appreciate the business content, and not only those who have dreams of space.
(7) New entrants
In 2019, Microsoft and Apple made the news when they entered the space industry.
7.1. Apple in 2019 followed Facebook's action in 2018
In the first half of 2018, Facebook's Mark Zuckerberg announced that they would participate in the satellite communication market to provide communication infrastructure for those who couldn't use the company's applications yet.
In 2019, it was reported that Apple, as well, was apparently working on research and development related to satellite communications. Apple aims to establish its own satellite network. It appears that Apple is not developing satellites but focuses on equipment for data transmission. It is expected that with the help of the equipment, you'll be able to send data directly from Apple to your Apple devices as well as connect your devices via the communication satellite without using third party networks. Furthermore, your location will be obtained with higher accuracy, improving the functionalities of the company's map service.
7.2. Microsoft in 2019 followed AWS' action in 2018
In AWS re: Invent 2018 conference, AWS announced that AWS Ground Station service plan to set up 200 antenna ground stations to connect satellite networks and the cloud so that you can access the cloud wherever you are in the world.
Microsoft followed it, joining the satellite network market in 2019. The company plans to provide connection to satellite networks using its own cloud service Microsoft Azure. It intends to cooperate with existing satellite communication companies, such as SES, INTERSAT and Viasat, to connect to the cloud from anywhere in the world. Microsoft meets not only private demands but more and more government demands, completing cloud contracts with the U.S. Air Force and the Pentagon.
In recent years, Internet giants are investing in Internet infrastructure one after another to expand or replace Internet infrastructure on the ground. Outer space is now used in a very different situation from when a small number of billionaires who had given birth to Internet giants headed toward space in the past.
(8) Summary and hot topics for 2020
What do you think about the various events that happened in 2019? What news impressed you? There are many other events we couldn't mention here. Check them out through this tag. We deal with space news on Social Media, too. Please follow us if you haven't yet.
Sorabatake editorial department will pay the most attention to private human spaceflight in 2020. If everything goes well, private companies will offer several space flights for private citizens as well as take astronauts to the ISS in 2020. The important thing for both missions is to provide a reliable service reusing their rocket parts with safe launches. So we are interested in how frequently and consistently they can provide their services. Speaking of spaceflight, we will also pay attention to what companies are listed in 2020. In 2019, Virgin Galactic made the news when it went public. It is said that Spire Global is preparing for its IPO. Let's see what other firms go public. Finally, with many players planning to build communication satellite constellations, we'd like to find out which will prevail in the future, satellite networks or ground-based networks? Which will prove to be the more efficient service (of course, they can co-prosper as well)?
What topics do you find interesting? Let us know if you come across any good interesting news!